What You Need to Know About Gabapentin
By Arnold I. Pallay, M.D., F.A.A.F.P., Vanguard Medical Group
According to a recent Jersey Journal article, the drug that recently took a 15-year-old New Jersey boy's life is not an opioid or a controlled substance. It doesn't even deliver a very good "high." But prescription gabapentin is growing in popularity among teens and others who mistakenly believe that it is safer than street drugs.
Hunter Reinholt-Demree is its latest casualty. The teenager was in Arizona during spring break visiting his grandfather. Hunter's grandfather was taking gabapentin for his bursitis and arthritis. Hunter decided to experiment with the drug — with tragic results. His mother discovered him sitting lifeless in a chair on Easter morning. She offered a warning about drug abuse in Hunter's obituary.
As a practicing physician in the community, I know that educating patients is critical to helping them take the necessary steps to stay healthy. Here's what you need to know about gabapentin so that you can help prevent its misuse.
Gabapentin: The Medical Perspective
Brand Name: Neurontin
What it is: Gabapentin is an anticonvulsant, antiepileptic drug
Prescribed to treat: Seizures and nerve pain
The drug is commonly used to prevent and control seizures (including seizures caused by alcohol or benzodiazepine withdrawal). It also is prescribed to relieve nerve pain caused by shingles or diabetic neuropathy. In addition to its approved uses, gabapentin is prescribed 83 percent of the time for off-label uses such as depression, ADD, bipolar disorder and cocaine addiction.
How it works: It acts as a sedative, slowing down nerve cells in the brain. Importantly, it cannot be stopped "cold turkey." Doses need to be gradually decreased or you may suffer severe side effects or worsening of your condition.
Side Effects: Drowsiness, dizziness, tiredness, blurred or double vision, shaking or tremors, loss of coordination, memory loss, fever, difficulty speaking, swelling of the ankles or feet, depression, suicidal thoughts
Contraindications: Taking gabapentin with alcohol or marijuana can increase chances of dizziness and drowsiness.
Widely Prescribed Means Widely Available
Gabapentin is not a narcotic, and so it does not – on its own – deliver a mood-altering effect. However, when taken in combination with other drugs like opiates or benzodiazepines, it increases the euphoric effects. That may explain its appeal to those experimenting with drugs.
Yet this potentially dangerous drug is considered to be a safer alternative than opioids, according to the Centers for Disease Control and Prevention. As a result, gabapentin is one of the most widely prescribed drugs today. According to DrugAbuse.com, there were 57 million prescriptions written for gabapentin in 2015, and that number continues to grow.
Practically speaking, widely prescribed translates to widely available. Chances are there is a prescription for gabapentin in a medicine cabinet that's easily accessible by your teen. At the same time, it's likely that your state doesn't track or regulate it. (See the map below.) That puts the responsibility on the patients receiving the prescription to ensure it is not misused.
State Tracking and Regulation of Gabapentin
Source: National Institutes of Health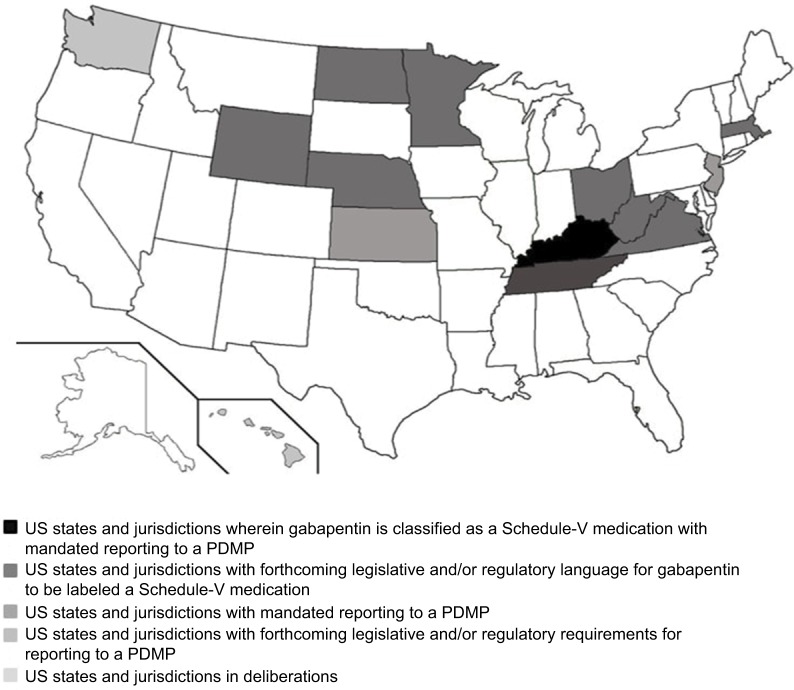 Questions to Ask Your Doctor When Getting a Prescription
Why do I need this medication?
Is this the lowest dose possible?
Are there any other less dangerous medications that I may take?
How long should I take this medication?
How should it be tapered off?
How can I reduce the risk of side effects?
If I have a history of addiction, is there a risk taking this medication?
What if there is a history of addiction in my family?
How can I store this medication so that it is not misused by others?
How can I properly dispose of this medication?
The Takeaway: Use Prescription Medication Responsibly
You can help protect against the misuse of prescription drugs like gabapentin.
Talk to your children about the real dangers of drug abuse.
Just because a physician prescribed it, doesn't mean that a medicine is safer than a street drug if taken incorrectly, not as prescribed and not under a doctor's care
Know the side effects and the long-term implications of any medicine that you take.
Lock your medicine cabinet and dispose of unused medication properly.
Never share your prescription medication with your friends.
Spread the word about prescription medication abuse to help prevent other senseless tragedies.
Learn about other commonly misused prescription drugs including stimulants, opioids and benzodiazepines in our recent blog post.
This article is not intended to be medical advice. Consult with your doctor for your specific situation.
Blog author Arnold I. Pallay, M.D., F.A.A.F.P. is a board-certified family physician, and the Medical Director at the Montville and Lincoln Park divisions for Vanguard Medical Group.
Think you might have a substance abuse problem?
To find out if Freedom 365 Virtual Recovery System may help you in your journey to recovery take our secure assessment.